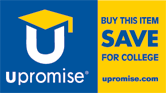 Upromise Welcome, Money for college through Shopping Online

Everyday spending can pay you back with money for college. Upromise has thousands of partners nationwide, brought together under one convenient savings service for college.

Upromise has 767 cashback stores and has an average rating of 3.4 out of 10 based on 34 reviews. 142 out of 767 stores (about 19%) have the highest cashback rates in the market.
Upromise

Cashback Shopping Site Review





Baby Education on November 15, 2017
whoah this blog is magnificent i really like studying your articles. Keep up the good work! You realize, lots of persons are looking around for this info, you could aid them greatly.





Wayne on June 16, 2017
Absolutely scam. Missing cash back is only a tiny problem for this scam. Upromise will close your account and take away all the cash back you earned. We lose the money, upromise loses its credit and reputation. Simply as its name, upromise means it is we promise to this scam.





Josh on September 29, 2016
BEWARE! This website is a fraud. If you shop too much they will say you broke the terms so they can keep your cashback for themselves and will suspend you.





Hardsearch on September 19, 2016
Upromise used to be good. For the past six months, they have failed to deliver on *every* *single* *transaction*. Do not use!!!





Bill on August 21, 2016
Upromise is a scam!! I have never received any cash back after making thousands of dollars in purchases.





Yevgen on January 06, 2016
I made some purchases through Upromise. It tracked nothing. Do not recommend.





Rgh on December 17, 2015
Very unreliable. I use this as a last resort. If I can another reliable rebate site, even if with a lower percentage, I will use them over this site. Positives: * You can increase your "potential" rebate by using their credit card * If you deposit your funds into a special linked Savings Account account (with a $5000 balance) you will get a 10% yearly bonus. Negatives: * Poor tracking of sites visited * A partial purchase return may cause the ENTIRE purchase rebate to be negated from your account. * Selective stores have the ability to negate rebates for MORE that you were originally refunded. Thereby causing you to rebate money to the RETAILER ! * Even when you log into their site, and then purchase through their site, random purchases are lost. * You need to manually track EVERY purchase you make through their site by keeping a receipt, AND then research every one of your purchases to verify that they rebate was given. * Asking them to research missing purchases and negative transactions is VERY painfully slow and time consuming, usually requiring phone calls (other rebates sites can do this through a single email). Stay away if possible





S Turner on September 03, 2015
I lost months of cashback on multitudes of orders for a large retailer. Their policy of making you wait so long before asking about cashback postings hampers their ability to get said cashback from the retailers. I absolutely DO NOT RECOMMEND Upromise.





Scott Mackey on February 13, 2015
I refuse to use them anymore -- the online shopping that I do simply does not register around 80% of the time. Total scam. If you keep your receipts and confirmation numbers and follow up, they will (magically) credit your account properly, but you have to be firm and persistent. Ridiculous when there are so many legitimate competitors to choose from.





Lt on December 01, 2014
I have been a member of Upromise since August 2006. My credit cards are registered with them, as well as my grocery cards. The majority of my shopping for non-food items is online. I always check Upromise before making a purchase. I have only earned a little more than $200 in the past eight years. I would say that at least 50 percent of the time I do not receive credit for my purchases. Somehow there is no record of me accessing partner sites through Upromise.





Ramon on November 19, 2014
Best when have their credit card !





Eric on March 25, 2014
very bad cashback website, be very careful to go through their website to get cash back





Caw on March 06, 2014
Upromise is VERY unreliable for automatic crediting of accounts. If you make an online purchase through Upromise, save the receipts wait 45 days and verify it's been credited. Most likely it will not have. Contact them after 45 days (website contact form…) and request the review the purchase. I purchase online all the time through upromise, 8 out 10 purchase do not show up automatically. They WILL 'investigate' and it will get credited 'eventually'. Then of course you have to wait for the funds to be deposited…might be 2-3 months later. After than you have to wait for the quarterly deposit into your 529. So it can take 6 months or more to get money out of Upromise, but if you're persistent…you will get it.





Upromise Is A Nightmare on November 13, 2013
They missed 90% of my purchases. I believe they did it intentionally. Still fighting with them to get the cash back of my purchases last Christmas. What a nightmare.





Amy on October 20, 2013
I absolutely hate this site. I have registered my cards, tried to shop at the brick and mortar stores Uppromise says we should use, followed all the rules and asked for help. Zip, zero, nada. What a load of crap.





Kenya on October 05, 2013
I think if you become obsessed with getting cash back you will be disappointed but if you sign up and shop normally you will be ok. My biggest issue is remembering to go to the site first for things I buy. So I do miss out on cash back oppurnities but that my fault not Upromises.





Nocashback on September 29, 2013
as they say,no transaction,then no cashback .





Nicky on March 10, 2013
Very high cashback if you combine cashback with additional 5% if you pay with Upromise mastercard. However, tracking is terrible. 70% of my transactions (out of 20) were not tracked properly.





Shivalika S on February 16, 2013
Out of 15 purchases I made, maybe 1 is actually trackable. Shame. It's just a scam, IMO. I use shopathome and even though I think they might skimp out on 1 or 2 of my transactions, the cashback I get is ingenious and hassle-free! I will use mr.rebates if shopathome doesn't have it but Upromise is my last go to resort-- never using it unless absolutely necessary.





Souffle on December 22, 2012
Upromise is just okay. They do pay but tracking isn't 100%. They didn't pay me for 3 of my purchases and it was a HUGE PAIN to get the money back as they required you to FAX paperwork. C'mon! A simple e-mail w/ an attachment should suffice in this day and age! I use 3 cashback sites (mr. rebates, ebates, upromise) and upromise is the last resort in the off chance that the other two preferred sites have lower rates.





Brad on October 23, 2012
I used Upromise for a about 4 years. I don't think they are as bad as some of these reviews. I got paid most of the time and they occassionally had pretty good deals. On the other hand, they did miss more of my purchases than other sites I have used and I can usually find better rates elsewhere so I have moved on.





Rama on September 26, 2012
Very unreliable cashback site. I lost many transactions.





Noupromise on September 15, 2012
I bought two identical items through two separate clicks and their system could only identify one. Emailed them twice and called them. They only thing they could do is to let you wait for 45 days then file a dispute. Their system is not reliable and the process model is incompetent. Don't risk your money. I





Cashbackaddict on July 15, 2012






Xchesser on June 22, 2012
I was looking for highest rebate for one of famous store. They promised 5%. Made a try with little purchase. Now it is 2 months since that time and "my transactions" section is clear. My purchase is not trackable at all, it is missing. Scam as for me.





Danial on April 11, 2012
This site was awesome ... You can make a lot of cash back from all of your online purchase ...





Cashbackaholic on April 02, 2012
I have had good expierence with them, I have been using them since I was in high school. I have had all my cashback credit and as a plus they allow you to link other peoples accounts to your account to get cashback from your friends and family.





Rosiedoolin on March 08, 2012






Rob on December 28, 2011
Downright poor. Avoid using these guys for cashback. I too track them like Ashley mentions and dispute when they don't pay. So far this year I should have received $194 in cashback for my transactions through them and have received under $50. I even went through the whole dispute process and mailed them everything they wanted on a series of transactions that added up to over $100 and then they just denied it on some seriously obscure nonsense they made up just to deny cashback. They do not have their act together. Use eBates or Mr. Rebates, I literally never have a problem there, to the point where I don't even track my transactions with them anymore because I know they will get it right, kinda like I treat my checking account at Citibank.





L-diddy on November 13, 2011
Poor tracking and they make it difficult to hunt them down to get credit. Also change their programs frequently, and never for the better. If your 529 program is not connected to upromise (mine was dropped a few years ago inexplicably), you're left requesting a manual check. Once they downgraded their grocery store program most of what is left is uncompetitive. And no, I don't want your damn toolbar, stop trying to cram it down my throat every time I log in or bother to read one of your emails.





Ashley on September 12, 2011
Waste of time! Online orders RARELY track for me. You have to wait 30 days for it to show up and then you only have another 60 days to file your dispute and have the issue corrected before time runs out. As proof of your transaction you are suppose to mail them a receipt! Mail a receipt for an online transaction? What are they thinking? I tried to keep a spreadsheet and double check them and email a dispute but it gets old. Ebates gives more money back and I don't have to worry about losing the money if my children don't go to college. That said, Upromise does follow through with their ecoupons (which they drastically cut back!!!) and when you use a registered card at one of their sponsored restaurants.





Babybear on July 17, 2011
hello I am not the very least interested in your product. Please stop sending me your sales pitches thank you





Katherine on June 20, 2011






Cashbackholic.com on February 22, 2011
The initial cashback rating is based on the provider's popularity, the number of cashback stores, cashback rates, customer service, user interface, and other relevant factors. A user should treat our comments more like a general guide than a review.