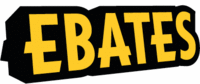 Coupons, Promo Codes and Cash Back Savings - Ebates.com



Ebates has 2626 cashback stores and has an average rating of 5.6 out of 10 based on 95 reviews. 163 out of 2626 stores (about 6%) have the highest cashback rates in the market.
Ebates

Cashback Shopping Site Review





Stacyjef on October 04, 2018






Dwightjotte on September 29, 2018






Aliyahs D on June 02, 2018
Do not use!!! They do not respond to inquiries.





Angelintem on May 16, 2018






Hollyhic on April 25, 2018
Деньги теперь не проблема. Заработать от 5000 руб в день легко на сайте - http://vmagazze.ru





Buy Fast Private Proxy on April 20, 2018
Wow, superb blog layout! How long have you been blogging for? you make blogging look easy. The overall look of your site is magnificent, as well as the content!





Eugender on April 10, 2018






Jacmop on April 09, 2018
Область применения вилочных погрузчиков из Китая JAC http://www.roommatefinder.org/members/animeugandag08/activity/683112/





Nastyvag on March 31, 2018






Lindaploni on March 23, 2018
Moved Permanently https://pravdozor.net - Show more!





Casiscefs on March 15, 2018






Lubovrible on March 02, 2018






Stephentroum on March 01, 2018
топ популярных товаров на wumen.site - интернет магазин с хорошими ценами у нас в наличии много товаров для покупок,на любой вкус и цвет http://wumen.site/ - Click here!





Marytaf on February 27, 2018






Cody on February 24, 2018
Used ebates 3 times. Never got any money and balances always shows 0.00$ after buying item





Clydeperty on February 21, 2018
http://kukla-lol.ofo.by - Куклы ЛОЛ купить оригинал





Cherylgroke on February 09, 2018
http://zaporka.net - Неподвижные опоры в ППУ





Josephtow on February 08, 2018
Сериалы ТУТ! смотреть онлайн бесплатно http://indianfilm.ru/ - Сериалы ТУТ! смотреть онлайн бесплатно>>>





Kennethfus on December 09, 2017






Calvin H on September 10, 2017
Paid at least twice so far. Payouts do happen quarterly and are timely when issued. Has some of the best rates out there for CB but make sure to look around. Customer service is able to quickly resolve problems with orders not showing up. A+





Manuela on July 30, 2017
I started in January,they paid $75 in 2 fat checks,then nothing since April.I shopped and activated like crazy,but nothing ever shows up anymore.I only have $2.50 since April,all my purchases,about $3000.00 worth of purchases from stores with cashback were lost.Just not showing on Ebates.I think,they get you excited at first,pay you and later on they just keep the money,because I shopped at many cashback stores,activated at the ebates popup window,but nothing.Better to fight for the missing money immediately.I just shopped my heart out and when I looked at my shopping history,it was blank.So sad





James S on July 06, 2017
Why are these guys asking for your physical address to get your money back via Paypal? Other sites do not do this. Shady!





Mike on March 04, 2017
Only good experience with them... I just want to hope the rest of cashbacks are as good as them





Terryarery on January 16, 2017






Abamuh on November 15, 2016






Sara on February 23, 2016
Best cashback site. Very Fast and Great CS.





Jason on March 25, 2015
wastage of going to ebates. you get pennies back.......if they wish after 3 months!





Tx on January 21, 2015
Great rebate site! Credit the cash back in days and the cash back rate is fair enough. Plus the $5 bonus with $25 purchase policy.





Steva on December 06, 2014
I have been waiting for a month now for my so called cash back.$30.00 that is, they just keep asking me to confirm my e mail address, they jerk me around enough. Never ever I am going to used them again.





Ramon on November 19, 2014
Lots of great cash back rate. Love the double cash back daily.





Iva on May 24, 2014
Ebates works fine for me. Never had any problems with cashback, especially now with their cashback button enabled in my browser. Give it a try and earn 5 bucks too: http://www.ebates.com/rf.do?referrerid=w33%2B7E%2FKx91xQiB3ZnSNeQ%3D%3D





Eric on April 11, 2014
very bad cashback company, it will delete your part of cashback without any reason and say that they didnt do that. what a suck company, screw it





Gladys on April 08, 2014
great cash back website. I highly recommend them. You should join it now.





Dorrine on March 01, 2014
ebates is great. I have been using them for 3 years now and I never had any problems with them. they update me pretty quick after I shop and I never had any problem getting my big fat check.





Thenaysh on October 30, 2013
I only use a couple of cashback sites because I have trust issues, but Ebates is my favorite. They credit the account usually within 24 hours. Personally, I never had any problems. However, I highly recommend reading the fine print in order to avoid disappointment.





Kiran on October 08, 2013
Ebates is great! I don't shop online often, but when I do, It's nice to get some money back! It's not a scam, seriously join! http://www.ebates.com/rf.do?referrerid=Ev5wZAR94Ck%2Fx%2Bxrwlu%2Bug%3D%3D You get a $10 giftcard to a store of your choosing just for joining!





Jill on August 26, 2013
Just received my quarterly check for $250. Have been using for almost 3 years, and get my check every quarter. Never, ever had a problem, so can't comment on their customer service as I've never had to use it. For those who complain about them saying one site is 6% and they go on and it's 3%, these things can change daily. It's up to the individual stores who are members, so you are directing your complaint to the wrong person, and they have policies with the stores. This a promotional site for the stores and ebates gets paid a certain amount by them for membership, but it is up to the stores to set their rebate amounts. Plus you have to read the small print, some items are not eligible for rebates or have expiration dates. Just sounds like people are not doing their proper research or reading. Have no complaints with them at all, and have tried other rebate sites also, but not so happy with them, so if it ain't broke, I'm not going to fix it.





Cathy Schaier on July 28, 2013
no complaints so far, keep up good work, thanks





Lee on July 08, 2013
AVOID ebates! You constantly have to chase down your cash back bonus and several times they say that can't credit you...especially for the larger purchases. How convenient...





Michele on May 31, 2013
Drugstore.com is listed here as having a 12% rebate. Not so!!! It's only 6%...





Cat on May 19, 2013
I've been with them for two years and have always received my cash back.





Eric on May 08, 2013
Member for 3 years. Highly recommend. Any time there have been issues they have been quickly resolved. Recently added the option to receive an Amazon gift card immediately instead of waiting for a check. Keep an eye on your emails because they have daily doubles which can really add to your savings.





Amanda on May 01, 2013
I have been using them for at least three years and have always gotten the money back, approx. $30 - 40 a quarter. You would be surprised how many stores they work with. However, watch because they list Amazon, and Amazon itself only allows money back on certain items. Not Ebates fault. Love this site





Bob on April 25, 2013
Never had a problem with them been using them for 5 or more years now.





Aa on March 14, 2013
I have been a member of Ebates since 2002, and in spite of some issues over the years I have liked them. Recently they have started a policy of only giving the rebate on the amount spent minus any gift cards. What in the world does my having a gift card to Lands End have to do with the amount spent? Spent over $70 and had a gift card for almost all of it. They gave me .67 in rebate - taking off the amount of the gift card. They have done this twice to me and I am through with them. Does anyone know of a better Rebate site?





Rob on March 14, 2013
I love ebates. It is my favorite cashback site, though I do go with other sites if the cash back is much higher. Good thing about ebates is they will send a check automatically each quarter. I've had some issues with the cashback not posting automatically (usually with more complicated cashback vendors like car rentals and such), but once I emailed the "where's my cash back" link with the order number it was instantly posted. Always check your click history to make sure the store you purchased something on shows up on the click history, otherwise they don't see that you clicked through them. So far in just about 2 years I've received $161.51 from them, by far the most from any cashback site.





Doc on March 07, 2013
wiped out cashback history after 3 months despite several purchases.. total scam





User5432 on February 16, 2013
ebates is good, cashback usually posts fine but if not they will add it manually. have not had any issues after several years





Sam on January 15, 2013
Using Ebates from many years now. Never has issue with cashbacks tracking and payouts. But I always make sure I use CCleaner to clear cookies before getting into purchase to make sure when I start fresh transaction it always record.





Ron on December 26, 2012
Ebates did not honor 7% Sears transaction ($49) despite multiple mailings w/ receipts and proof of purchase.





Russ on December 23, 2012
I used ebates for the first time this year. I purchased merchandise from three stores and a month later nothing is showing up in the "my ebates" file. It still reads $0.00 for pending ebates. Nothing from any store. JCP, Ebay, and Amazon. Customer support said it should only take 2 to 7 days to receive credit that a purchase has been made. Now, I have to send them all the receipts just for them to investigate it. This is a pain since I don't know exactly what was purchased through the ebates portal. I purchased many things from different stores during the Christmas holiday. I will consider it a loss and never use ebates again. Users beware!!!





Vanessa on December 05, 2012
Please contact me back for more details immediate about this jobs offen. Thank you so much. I'M LOOKING Forward to hearform yall's real soon. Thank,you again. Vanessa Wilson.





Tennesseemountainman on November 14, 2012
Decent site. They are pretty slow to answer emails but payments are made in a timely fashion.





Sam43 on November 11, 2012
Here is a Helpful Tip about how make some extra cash while shopping 1) When you click the following link, choose the $10 gift card you prefer and register. 2) When you spend at least $25 shopping at Target, walmart, etc.. online via the link provided on that webpage, they will mail you a $10 gift card plus 2% cash back of the items you purchased via a check. http://www.ebates.com/rf.do?referrerid=s%2FHmUDd9IDkLBqluRd4T7Q%3D%3D





Just Me on November 11, 2012
I have purchased a lot of items through ebates and each and every time they pay me. I've been using them for about 3 years with no problems. I am on here just checking if there are any other cashback sites that pay a little more. I think I will stay with the tried and true.... From some of this feedback it seems like there are a lot of shills on here (owners/workers of other companies who write negative reviews about sites so that they can get more customers...so read 4 or 5 sites about reviews)





Alla Ryskin on November 06, 2012
Run away from this deceptive service..... They do not pay.





Brian on September 23, 2012
I have gone through ebates about 5 times now. I have never had a problem. It always tracks and they always pay me. You have to reach $5 to get paid and they immediately pay you once you reach $5 to try to reset your limit down to $0, which I wouldn't prefer.





Tamara on September 13, 2012
have used them for a couple years now, haven't had any problems yet! I have recieved about $25.





Joe on September 01, 2012
I've never had a problem with Ebates.com and they haven't missed an order! I've earned about $100 with them...don't hesitate to use them.





Economom on August 25, 2012
I've been using Ebates for a couple of years now, and in the last year I've had to start tracking all of my purchases, so that I can be sure to get my rebate. About 30% automatically show (like they're supposed to), and I have to email customer service the rest of the time, after waiting 30 days to see if the credit will show. If it is a small dollar amount they will go ahead and give you the credit, but if it is $25 or more, they contact the store you purchased from, and tell you that if they get paid, you will as well. That is in the small print on their website, but it's really annoying, especially if you factored the rebate into your total cost of the product. I want to drop them as soon as I find an alternative. I'm tired of the hassle.





Very Disppointed on August 22, 2012
I had been a faithful ebates.com shopper until a few days ago. I made a purchase of $270 with 15% cashback promised. I click the website, but did not get the usual window (I should have figured something!), but I placed the order thru the business website as I had done many times before. When my purchase was not in my account, I emailed them with my issue. I received the same response as "cash back addict" from Patrick. I am very dissappointed with their customer service! I will be searching for a new site. I have not received a reply to my request regarding my pending money. I am pretty sure they will keep it. Good bye ebates.





Denise on August 18, 2012
Love ebates! Been using them for years and I have gotten over $600 using their website with no problems!





Peter on August 14, 2012
I have used Ebates since 2001 and have gotten over $1,000 back. I have not tried any other cash rebate vendors.





Seany on August 06, 2012
Ebates will RIP YOU OFF if you make a purchase at through them at a travel site such as Expedia or Hotwire. They will display an "Ebate" of "2% cash back", but then only credit you $2. There is a big difference between 2% and $2 when you buy an airline ticket for $900. If you contact their customer support, you will get non- sense replies or endless request for more information but they NEVER will correct the problem. Avoid them unless you have the rest of your life to try to chase them down.





Chloe Handbags on July 24, 2012
In you break your hand is seen your beloved bag? Want to see more attractive bags? Welcome to join http://www.chloemarciebags.com





Emily on July 21, 2012
Love ebates! Have used them for years with no issues. Recommend the site to friends all the time. Very easy to use!... I even have my husband in the habit of using the site (most of the time). ;O)





Michel Berry on June 18, 2012
I made a reservation through their Holiday Inn link...and had a tracking number and I completed my stay and did not receive my cash back. This is the first time this has happened. I have sent 4 e-mails regarding this but I have been ignored and Ebates has not responded. Their customer service is awful!!! Wish that I could find another cash back store to use instead.......





Later on June 12, 2012
been using em for a while. more than 2 yrs. no probs.





Thomas on June 05, 2012
They don't pay. I have $100 cashback not reported. Their secret phone line is always no answer. And they don't reply the emails too. What a fraud!





Felicia Burns on May 15, 2012
Trying to get start first time how do i get on





Chris on April 26, 2012
Been having great experiences with Ebates for a few years now! One of my regular three rebate websites.





Bedroom Furniture on March 12, 2012
HI Cashback Shopping Site Review Really Fantastic posts in this post there are many information about what i need. thank you!





Cash Back Addict on March 05, 2012
I used ebates because they had 1.5% Cashback on Coach. I have been doing cashback sites for years and have never had a problem. My cashback didnt credit and this was ebates reply. Like I mentioned before I have been doing this for years I did prints screens printed my confirmation everything: Just a shady response saying they couldnt find my order: I sent them my order confirmation directly, even my reciept. Thank you for your patience, we have received feedback from this merchant on your behalf. They have indicated that this is an invalid order number. This could mean a few things. First off we did not earn any commission from this sale, therefore we have nothing to pass along to you like we wanted. If the order is not in the database it could mean that the commission went elsewhere, or another channel was utilized for final check out. When an order ID is considered invalid it means that the commission did not track back to Ebates. Therefore they consider it invalid, as an invalid click used for check out. There are a few other possibilities. If you went to the merchant site and ordered an item or service from a third party through their site that would be considered ineligible. We apologize about any confusion this may have caused. Thank you for using Ebates every time you shop online. Sincerely, Charlotte Customer Care Ebates





Evie on January 25, 2012
No problems, have used them at least three years. Just have to follow the directions (click through from Ebates, don't leave the site before completing the purchase), but couldn't be simpler.





Arlingtonp on January 18, 2012
Sent a rebate request and got an e-mail response with the rebate credited into my account almost instantly. I could not believe how fast that was!





Josh on December 20, 2011
Been using ebates for 3 years. Generally works out okay. Customer service is quick to respond but not always helpful. They can't do anything for you if you goof up the tracking tickets before clicking through to a website (like if it were in another window or whatnot) and you won't know if it works for 15-30 days after your purchase.





Partyman66 on November 28, 2011
This site is awesome. I've only been using it for about 6 months, but their tracking is very good. I've had one time where the tracking did not work automatically, and I filed a request for credit and received credit for it within minutes after providing all of the necessary information about my purchase. They send payment promptly after the rebate-buildup period ends and their cashback % is about the best out there. Stick with the reliable and proven rebate sites, of which this is one of the tops in that category.





Souffle on November 13, 2011
Love ebates! I use several sites (fatwallet, ebates, bigcrumbs, mrrebates) and ebates is my favorite. I have never had an issue with receiving credit. I suggested the site to my sister and I was credited for a referral bonus very soon after she made a purchase.





Kerri on October 15, 2011
This is the only cash back site I have used to date, and I've been pretty happy! I've only gotten about $25 back, but have not been shopping a lot this past year. I think they are very easy to navigate, and I enjoy their website layout.





Kiwi on September 20, 2011
Never had a problem with them. Awesome site. I use mr. rebates, ebates, shop discover, and fatwallet depending on which ones have the higher %. All these sites I recommend wholeheartedly.





Innovativemom on September 04, 2011
I've been using Ebates for 11 yrs. I've gotton over $900 back. The few very times (and I do mean very few) something didn't post to my account, I filled out their help form and it was posted with the longest being 24 hrs. & the shortest being 10 min. Everytime I've compared them to others, their percentage was better, they have more stores participating, it's rare to not find a major retailer listed on their site, and their over all method is much more user friendly than others. I also like a place w/ longevity. They've been around a long time and except for the few people that are too lazy to check the help section and fill out a very short form when they have a problem, their ratings have always been excellent. There seem to be a lot of these type sites that just disappear after awhile. I lost almost a $100 to one of those sites. I like being able to depend on my rebate check, not just hope it works out.





Juliana on August 26, 2011
Been a member since 1999 and received over $2700 from them. Yes, that's right, that would be two THOUSAND, seven HUNDRED. Love them. Never had a real problem with tracking. Once in a while something doesnt show and I just use their form and it gets checked, and in my experiences they post it pretty quickly. Also, you get an email a little bit after your purchase that it got logged on ebates. It's not like you have to wait until the payment statement. Also they dump right into paypal and it doesn't get easier than that. LOVE THEM! (nope, don't work for them, just love them)





Fmm on July 04, 2011
Excellent. Chase back on time always.





Et on April 30, 2011
Used Ebates multiple times, especially on lots of Ebay purchases. Have gotten back $61 so far. Very infrequently does a cashback purchase not post successfully. Just clear out your cookies prior to doing a cashback purchase.





Jeff on April 22, 2011
I have only been using Ebates for a couple of months, but I have already earned about $75 cash-back from them. Their CB rates are higher than most sites, and they will credit it directly to my PayPal account quickly. I hightly recommend them!





Michael on March 28, 2011
I've been a Ebates member for 3 years and have never had trouble. I have read some negative reviews online but never had a problem myself. To date I have earned over $150 cash back.





Anna on March 28, 2011
ebates is terrible! shop through them if you want lousy customer care and to never see your cash back. 3 times!!





Cashbackholic.com on February 22, 2011
The initial cashback rating is based on the provider's popularity, the number of cashback stores, cashback rates, customer service, user interface, and other relevant factors. A user should treat our comments more like a general guide than a review.