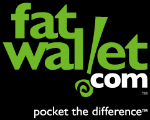 Coupons, Deals, and Cash Back Shopping - FatWallet.com

Fatwallet got bought by Ebates a few years ago. Closed as of 11/16/2017.

Fat Wallet has 0 cashback stores and has an average rating of 6.2 out of 10 based on 39 reviews. 0 out of 0 stores (about 0%) have the highest cashback rates in the market.
Fat Wallet

Cashback Shopping Site Review





Elle on July 09, 2015
I have shopped exclusively through FW for almost 3 years and have never had a problem with cash back tracking, even via mobile site purchases. Their forums help me stay on top of my deal hunting and their customer service is fast and efficient. Christmas shopping through them saved me over $300 last year!





Sefa on June 28, 2015
Hello





Wtf on June 28, 2015
Agree with the other posters about not adding cashback and erasing cash back. Pure thieves....and as for customer service? I say what customer service...





Karl on December 15, 2014
This site is probably the worst among all the cash back sites. They lure you into giving you very high cash back rates from the store but you will NEVER get paid. They will "adjust" your purchases to make it appear like you are getting some cash back but you will never receive it. I will go back to EBATES





Cyra on November 18, 2014
Best Website





Coco on April 01, 2014
I have made purchases through FatWallet 15+ times in the past couple of months, and have only had to file a claim once (which was very quickly approved). In my experience, the website works best with Internet Explorer.





Pin on March 12, 2014
they canceled all my cashback





Sam on January 29, 2014
Need to file a claim every time. Disgusting customer service. Very rude especially if you call them on their only ph number. Been a member for 5 years, and I guess after it was sold to ebates, their service is horrible.





Mike on November 25, 2013
I am a regular user of fatwallet. My only gripe is that you must wait 60 days for the cashback to clear. But otherwise I have always received the cashback, and have never had to file a claim. I use Google Chrome and am very careful not to leave the page.





James Tony on October 12, 2013
Don't bank on getting 80% of your cashback, you will constantly need to file a claim form and submit order data and on the same day, they will coincidentally send you a message saying "congrats this merchant gave you cashback today" if you are willing to jump through the loopholes they will give you the CB but its a damn headache to keep up with it all.





Stan on August 16, 2013
I've spent thousands of dollars through FatWallet in the past year or more. In my experience, they are terrible at paying up. Most of the purchases do not register cashback. I always use a fresh window of a browser that's currently not open, always log in before finding the store on FW, and use as few clicks as possible to avoid glitches. The only store that has been consistent on registering purchases is NewEgg. EVERY other store (Adidas, Rakuten, Maidenform, Dell Business, many other large online retailers) does not register. I have to manually submit a ticket. After waiting for 3+ months they often reject the request because the merchant "didn't submit" information they needed to make the decision. So much money wasted that I could've got back through other incentives. I would not recommend FW. Don't waste your time.





Michele Perez on July 26, 2013
The 5% rebate listed here is inaccurate. In actuality, it is 2.5% and it's a temporary %!





Andy on July 22, 2013
Transparent, never had a problem with them





Sam on June 09, 2013
I like it very much and I would highly recommend to everyone





John on June 09, 2013
Never had one problem in last 6 years. Have had 3 payouts, no problems what so ever. Good company, just a lower payout than some of the others





Sharon on March 12, 2013
I've been a member since 2006. Sometimes I have problems with getting cash back for qualifying purchases. At first, those problems were as simple as just giving them my order receipts and them verifying my click to that merchant. However, this is where their policy, or lack of policy, fails. My last two cash backs were not honored because the merchant (I shopped at the same place) claims I used a different referring source. However, the merchant wouldn't reveal what that source was because it was part of a secured transaction. So what am I left with? Without being able to verify if what the merchant said is true, Fatwallet basically tells me too bad. Here is their quoted response: "After a thorough investigation of this transaction, we have learned that this purchase did not qualify for Cash Back. We were informed that a different source actually referred this order to the store that you made your purchase from. Since this was a secure transaction between yourself and that store, the referring source is considered to be part of that secured transaction. Because FatWallet did not receive credit for referring your purchase, we will not be informed of the name of the source who did receive credit." This peeves me to no end since I am intelligent enough to know that if I was surfing the merchants site before I went through Fatwallet, then Fatwallet might not be considered the referring site. Because of this, I always make sure to delete cookies and clear my cache so I start with a clean slate through Fatwallet. I'm moving on to ebates.com. Hopefully I will not have the same problem there.





Danielle on March 06, 2013
No issues at all. Cash Back posts quickly and the percentage is correct. No issues with cashing out. I've been shopping for a month and earned over $100.





Jonh K on February 18, 2013
Be careful, they will "restict" your account for no reason!





User5432 on February 16, 2013
my cashback doesnt always post but they will add cashback manually, just takes awhile but they always add it





Mitchell on December 28, 2012
Siegel





Jim on December 14, 2012
I have used them for years and have always been satisfied. Their website is easy to use, they send you reminders about your purchases, and best of all, you can get your cash back in any amount via PayPal as soon as it clears.





Bbbig on November 25, 2012
I've been using FatWallet for years now and it's been working for me reliably. Whenever I'm buying something, I check against FatWallet to ensure I get the best price possible!





Tennesseemountainman on November 14, 2012
Another excellent website. They are now partners with Ebates but I would tip my hat a little more for FatWallet as I like the website layout a little better.





Ruth on October 07, 2012
Pretty good cash back - my second-favorite after Coupon Cactus. I like that they send you reminders before your clicks expire in case you bought something and the cash back did not register.





Samuel on October 01, 2012
Become more and more like scam. Try to hide all the cash back detail to hook you. It says 5% cash back. However, they only give you 1.25 dollar. Compared to other sites giving you more than 3%, what a scam it is!





Bettyacampbell on September 10, 2012
Even though I just started with FW, I like it very much and I would highly recommend to everyone. NICE indeed!





Barbara on September 04, 2012
Still can't understand why it takes almost 90 days to get cashback. Used to be quicker...not so now.





Andrew on August 24, 2012
FYI, "Up to 3.6%" Cash back through Travelocity.com brought me 1.1% Cash Back of $2.40. (40 cents more than MrRebates and 40 cents less than BigCrumbs' flat rates)





Rubina on August 05, 2012
Is FatWallet an identity theft ring? After your purchase, you get an email from them telling you you have cash back but it's on hold. Ok. After a few weeks you get another email telling you you can now get the cash. But when you try to get the cash, what you get instead is an error screen and a message to contact customer support. If you follow through, a customer support representative contacts you and starts asking you for personal information. I was reluctant but did give them the information. They took the information but withheld access to the cash. Instead they said someone would be in touch to "take me through the rest of the process". What process? Extracting the rest of my personal information? None of this is disclosed on their website. This is very suspicious behavior and I recommend extreme caution when dealing with these people.





Cheapman on June 21, 2012
Site purchased by ebates and now they push the deals that give them the most return. Major posted left and now all the deals seem to be copied fron slickdeals.net a few hours later Service is now bad that ebates has purchased them with constant problems getting credit for my purchases Used to be good, not now





Later on June 12, 2012
been using em for more than 3 yrs, awesome website. strongly recommend.





Junhang on December 25, 2011
The fatwallet is the best reliable cash back site I used. Most of purchase will be posted and give the credit on time. If some you feel wrong, just call them and they will contact the merchadise and normally get the credit back to you. High recommand!





Souffle on November 11, 2011
Been shopping through fatwallet since 2005. Never had an issue with being credited. I usually rotate between ebates, big crumbs, mrrebates and fatwallet (all of which I recommend. Be sure to read the fine print for some offers). Although it seems to take forever to receive credit (90 days I believe), they are very reliable.





Kiwi on September 20, 2011
Never had a problem with them. Awesome site. I use mr. rebates, ebates, shop discover, and fatwallet depending on which ones have the higher %. All these sites I recommend wholeheartedly.





Calvin on August 25, 2011
*trusted* just got 750usd cash back from fatwallet without a problem.payment were super fast within 12hours. One of the best cash back site. top recommended 5 starts





Gary on July 12, 2011
I've never had any problem with FW. Recommended.





Jimmy on April 26, 2011
I have never, ever had a problem w/ FW. They pay when they say and are prompt in getting back to you with info. They also offer a service to remind you of all click-throughs that do not report cashback so you can follow-up to get your credit. I've needed to do this a couple times and always ended up getting my credit.





John on April 25, 2011
They suck! I bought stuff throught them and never got anything, never even registered my purchases, don't use them!!!!





Cashbackholic.com on February 22, 2011
The initial cashback rating is based on the provider's popularity, the number of cashback stores, cashback rates, customer service, user interface, and other relevant factors. A user should treat our comments more like a general guide than a review.