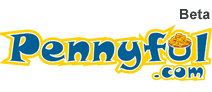 Cash Back Shopping, Online Coupon Codes, Rebates, Shopping Deals, Promotional Codes ¨C Pennyful.com

Pennyful.com is an online shopping website with coupons, cash back, deals, discounts, sale coupons, sales discounts, code off, and cashback deals.

Pennyful has 1370 cashback stores and has an average rating of 3.6 out of 10 based on 12 reviews. 267 out of 1370 stores (about 19%) have the highest cashback rates in the market.
Pennyful

Cashback Shopping Site Review





A King on September 05, 2017
Fraudulent website! Do not waste your time! I followed directions as stated on their website, and still no cash back. Took over 60 days to get a response and they closed the ticket out. Rip Off





Laurie on May 13, 2014
I like ebates http://smartwife.blogspot.com/2014/05/Ebates-Review.html has a great review





Mike on April 05, 2013
Have been using them for a couple months now. Most purchases show up without a problem. The few that didn't only required a quick email to support. They have always responded prompt and professional.





Will on January 01, 2013
pennyful.com is a scam, no phone number, no email reply. Be cautious.





Michael on December 26, 2012
cash back still pending after two months of purchase





T.sudeshan on August 27, 2012






Helen on July 09, 2012
I needed to contact customer service in order to sort out the issue with getting cash back (issue with my PayPal). They acted very promptly and I got my cash back no problem.





Bill Schwartz on April 24, 2012
bought a bunch of stuff in jan through pennyful on bestbuy and walmart. got the cashback credited and received the paypal payment just fine. usually don't write these reviews but customer care was really helpful as well so I guess I owe it to 'em. cheers





Millayas on October 28, 2011
After reading reviews, I was confident i could trust Pennyful.com but this is a huge mistake and I hope I am saving someone a lot of money by sharing my experience. I use cash back sites all the time, the 1st thing i always do; read restrictions/guidelines/exclusions/terms/etc, i checked at least 5 times before using Pennyful.com via merchant www.micfo.com (web hosting), no exclusions. A month passes & no word on credit.. so I log in to Pennyful.com & once again, check the restrictions/guidelines/exclusions/terms/etc and once again, none are listed... So I contact Pennyful, received reply very fast (I will give credit where it belongs) that they are checking on this matter and will get back to me. I am sure you already have a guess of what the outcome. Pennyful tells me that I am not eligible for cashback because I did not purchase the right service and that this is clearly stated on the website. So I go back to Pennyful.com & surprise, surprise! Merchant www.micfo.com now has restrictions. If my cashback was a $1 or $5 dollars, I would not be writing a review (something I very seldom do) but unfortunately for me, my loss is $79. Something like this would never happen with Ebates or even Shopathome (which is btw rated much worse) or Fatwallet; I would know being I always use those websites with the exception of this purchase. I hope this will save someone a lot of frustrations, I only wish a review like this was posted when I 1st stumbled on them.





Yoyo on October 02, 2011
web side super super slow and search is not working e-mail can not send.





Ebby on March 30, 2011
Awesome site. They pay cash back in little time and customer service is excellent





Cashbackholic.com on February 22, 2011
The initial cashback rating is based on the provider's popularity, the number of cashback stores, cashback rates, customer service, user interface, and other relevant factors. A user should treat our comments more like a general guide than a review.