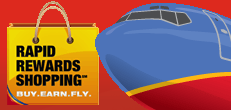 Southwest Airline Mileage Program

Get to your next award faster! Earn miles for every dollar you spend through Southwest Rapid Rewards Shopping. It's fast, simple and secure.

Southwest Airlines Mileage has 901 cashback stores and has no rating yet. 3 out of 901 stores (about 0%) have the highest cashback rates in the market.
Southwest Airlines Mileage

Cashback Shopping Site Review