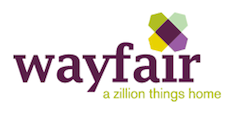 Wayfair

Cashback Comparison & Rewards Comparison
Wayfair

Cashback Offers:

The highest

Wayfair

reward points is

2%

(

Swagbucks

). Totally found

1

cashback offer for Wayfair.



Disclaimer: Any of the trademarks, service marks, logos, names, collective marks, design rights or similar rights that are mentioned, used or cited on CashbackHolic.com are the property of their respective owners.